New month, means newly released movies. And oh boy, april won't be disappointing you! From new movies releases to long over waited sequels, you are in for a really treat. In today's blog post i've put together a list of newly released movies throughout april.
DAKOTA (1st April)
Genre: Family
Dakota, an ex-service dog, joins single mom Kate (Abbie Cornish) and her daughter Alex (Lola Sultan) to live on their small-town family farm. Dakota quickly adjusts to her new home and becomes somewhat of a local hero, soon becoming inseparable from Alex. But when the farm's existence is threatened by the town's rogue sheriff (Patrick Muldoon), Dakota must help the family band together and save the land.
Memoria (1st April)
Genre: Drama
A bewildering drama about a Scottish woman, who, after hearing a loud 'bang' at daybreak, begins experiencing a mysterious sensory syndrome while traversing the jungles of Colombia.
The Contractor (1st April)
Genre: Action, Adventure, War
After being involuntarily discharged from the U.S. Special Forces, James Harper (Chris Pine) decides to support his family by joining a private contracting organization alongside his best friend (Ben Foster) and under the command of a fellow veteran (Kiefer Sutherland). Overseas on a covert mission, Harper must evade those trying to kill him while making his way back home.
Sonic The Hedgehog 2 (8th April)
Genre: Comedy, Family
The world's favorite blue hedgehog is back for a next-level adventure in SONIC THE HEDGEHOG 2. After settling in Green Hills, Sonic is eager to prove he has what it takes to be a true hero. His test comes when Dr. Robotnik returns, this time with a new partner, Knuckles, in search for an emerald that has the power to destroy civilizations. Sonic teams up with his own sidekick, Tails, and together they embark on a globe-trotting journey to find the emerald before it falls into the wrong hands.
Ambulance (8th April)
Genre: Crime, Thiller
Two desperate brothers attempt a robbery in order to pay for their dying mother's health care. The job goes south and during their escape, they steal an ambulance. But things only get worse when they discover it's occupied by a dying heart patient.
As They Made Us (8th April)
Genre: Drama, Romance
As They Made Us follows Abigail (Agron), a divorced mother of two, who is struggling to balance the dynamic forces within her dysfunctional family as she attempts to cultivate new love. Her father Eugene (Hoffman) has a degenerative condition that he and his wife Barbara (Bergen) refuse to accept, and her brother Nathan (Helberg) has been estranged from the family for decades. A self-appointed fixer, Abigail attempts to mend her complicated family's dysfunction before it's too late.
Agent Game (8th April)
Genre: Thriller, Action
A CIA officer finds himself the target of a rendition operation after being scapegoated for the death of an interrogation subject. As the team tasked to bring the officer in begins to question their orders — and each other — Olsen, a senior intelligence officer, and his subordinate raise the stakes.
My Sweet Monster (12th April)
Genre: Family, Animation
On her wedding day, rebellious Princess Barbara flees the kingdom to escape from evil postman Bundy, who wants to marry her to seize power. Suddenly, she's rescued by Bogey, the odd but lovable king of the wilderness. Bundy plots to rob the forest's supply of Spark, a magical life-giving elixir. Only Bogey, Barbara, and their bouncy friend Bunny can stop him – but can they face Bundy's vicious army of giant, robotic rats? The whole family will enjoy this magical, musical adventure.
Father Stu (13th April)
Genre: Drama, Faith, True Story
Based on a true story, Father Stu is an unflinchingly honest, funny and ultimately uplifting drama about a lost soul who finds his purpose in a most unexpected place. When an injury ends his amateur boxing career, Stuart Long moves to L.A. dreaming of stardom. While scraping by as a supermarket clerk, he meets Carmen, a Catholic Sunday school teacher who seems immune to his bad-boy charm. Determined to win her over, the longtime agnostic starts going to church to impress her. But surviving a terrible motorcycle accident leaves him wondering if he can use his second chance to help others find their way, leading to the surprising realization that he is meant to be a Catholic priest. Stu pursues his vocation with courage and compassion, inspiring not only those closest to him but countless others along the way.
The Unbearable Weight Of Massive Talent (22nd April)
Genre: Action
Nicolas Cage stars as… Nick Cage in the action-comedy The Unbearable Weight of Massive Talent. Creatively unfulfilled and facing financial ruin, the fictionalized version of Cage must accept a $1 million offer to attend the birthday of a dangerous superfan (Pedro Pascal). Things take a wildly unexpected turn when Cage is recruited by a CIA operative (Tiffany Haddish) and forced to live up to his own legend, channeling his most iconic and beloved on-screen characters in order to save himself and his loved ones. With a career built for this very moment, the seminal award-winning actor must take on the role of a lifetime: Nick Cage.
The Bad Guys (22nd April)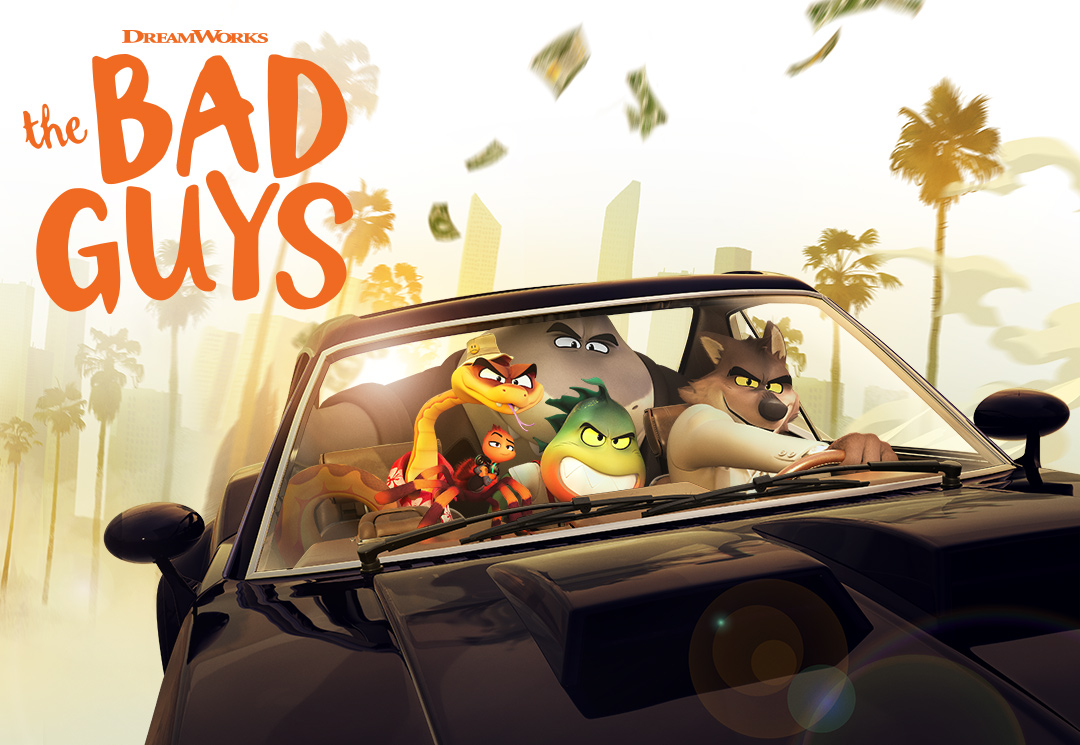 Genre: Family, Adaptation, Animation
Never have there been five friends as infamous as The Bad Guys—dashing pickpocket Mr. Wolf, seen-it-all safecracker Mr. Snake, chill master-of-disguise Mr. Shark, short-fused "muscle" Mr. Piranha and sharp-tongued expert hacker Ms. Tarantula, aka "Webs." But when, after years of countless heists and being the world's most-wanted villains, the gang is finally caught, Mr. Wolf brokers a deal (that he has no intention of keeping) to save them all from prison: The Bad Guys will go good. Under the tutelage of their mentor Professor Marmalade, an arrogant (but adorable!) guinea pig, The Bad Guys set out to fool the world that they've been transformed. Along the way, though, Mr. Wolf begins to suspect that doing good for real may give him what he's always secretly longed for: acceptance. So when a new villain threatens the city, can Mr. Wolf persuade the rest of the gang to become … The Good Guys?
Marvelous and The Black Hole (22nd April)
Genre: Comedy
A teenage delinquent (Miya Cech) befriends a surly magician (Rhea Perlman) who helps her navigate her inner demons and dysfunctional family with sleight of hand magic. A coming-of-age comedy that touches on unlikely friendships, grief and finding hope in the darkest moments.
The Sound Of Violet (29th April)
Genre: Romance, Comedy
Desperate to find a wife, Shawn (Thomas) meets Violet (Cleary) and thinks she's his perfect soulmate, but his autism keeps him from realizing she's actually a prostitute looking for a ticket out of her trapped life.