Whether you are vegetarian, vegan or like an occasional meat-free meal, then you have come to the right place. I won't be sitting here and telling you that you'll feel healthier and lose tonnes of weight. Many people think that being vegetarian and vegan means that you are super healthy. But that isn't always the case, cos some vegetarian and vegan food are unhealthy.
This doesn't mean that aren't benefits to going meat-free, your hair and nails can become healthier and you may also find that won't get so full that you feel uncomfortable…cos who wants to feel bloated? No thank you!
I think that I've talking about food for far too long, so let's go ahead and get into this post. I'll be sharing 4 tasty meat-free meals for you to try.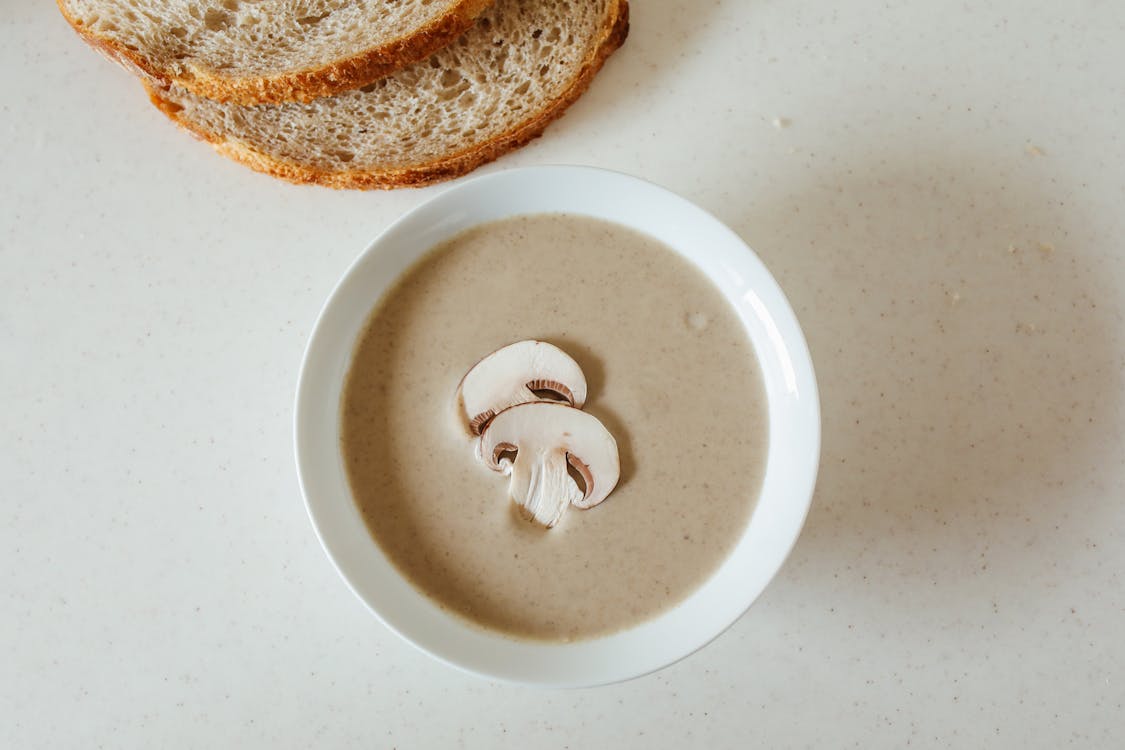 MUSHROOM SOUP
Ingredients
1 onion, diced
2lb mushroom, thinly sliced
4 garlic cloves
4 tbsp butter
1 tbsp garlic powder
1/3 cup dry white wine
1 tbsp fresh thyme, minced
1/2 tsbp nutmeg
1 tsp onion powder
1 tsp dijon mustard
1/2 pepper
1 tsp salt
4 cups vegetable stock
1 cup heavy cream (remove if vegan)
2 tbsp cornstrach (optional)
Flat leaf parsley, minced (optional)
Directions
Firstly, melt the butter in a large saucepan over a medium heat.
Add in the onions and cook for 5 min or until soften, then add in the mushrooms and garlic simmer a futher 7 minutes.
Add in the white wine, thyme, nutmeg, garlic powder, mustard, salt, pepper and stock, bring it to the boil and then turn the heat to low and simmer for 5 minutes.
Pour the soup liquid into a blender and blend. Add the cream to the mixture. For a thicker soup mix 2 tbsp cornstarch with 2 tbsp of water in a small. Pour in the cornstarch slurry at the same time as the cream over a medium heat and stir until thickened.
Serve with topped fresh parsley.
BURRITO BOWL WITH AVOCADO CREMA
Ingredients
1 cauliflower head, chop into florets
1 red pepper
1 green pepper
1/2 onion
1/4 cup olive oil
1 tbsp lime juice
1/4 (1 packet) taco seasoning
1 can black beans or pinto
2 cups romaine lettuce, roughly chopped
1/2 salsa
4 cup rice
Avocado Crema
1 garlic clove, chopped and minced
1/2 cup sour cream
1 avocado
3 tbsp lime juice
1/2 tsp salt
1/4 cilantro
Directions
Preheat the oven to 180C.
In a large bowl toss the cauliflower, onion and peppers with the taco seasoning, olive oil and lime juice. Then spread out onto a large baking sheet.
Place the baking tray on the centre rack and bake for 30 mins or until the cauliflower is tender with crispy edges.
While the vegetables are cooking, prepare the avocado crema. Put all the ingredient into a food processor or small blender and blend until smooth.
Combine the beans and salsa in a small skillet over a medium heat and cooke for 5 mins or until warmed through.
Serve the roasted taco vegetables over the rice, with beans lettuce and avocado crema. Enjoy!
AVOCADO TOAST
Ingredients
1/2 lemon
1 ripe avocado
Pinch chilli flakes
2 slices sourdough bread
Extra virgin olive oil
Directions
Cut the avocado in half and remove the stone, then scoop out the flesh into a mixing bowl.
Squeeze the lemon juice in with the avocado and mash with a fork until it's your desired texture.
Season to taste with sea salt, black pepper and chilli flakes (optional).
Toast the sourdough bread, then drizzle over the olive oil and lastely pile the avocao on top. Bon Appetit!
HALLOUMI BURGERS
Ingredients
1 egg yolk
8oz pack of halloumi, sliced
2 tsp sesam seeds
1 tbsp water
4 medium mushrooms
1 tbsp olive oil
1/4 tsp sea salt
1/4 tsp black pepper
4 brioche burger buns
1 small red onion, peeled and sliced
1 large tomato, sliced
Handful of coriander leaves (optional)
Handful of rocket (optional)
Spicy Mango Chutney Sauce
1/4 tsp red chilli flakes
1 tbsp apple vinegar
1/3 cup of water
4 tbsp mango chutney
Directions
Preheat the oven to 200c. Then place the mushrooms on a baking tray, drizzle over olive oil and season well with salt and pepper. Cook for 10 mins, then turn them over and cook for a futher 5 mins.
Whisk the egg yolk and water together, then brush each slices of halloumi before spreading sesame seeds over each side.
Add the halloumi into a skillet over a medium heat and cook each side for 5 mins or until golden brown. Keep warm until ready use.
Toast the burger buns in a hot griddle pan, until golden brown.
Chutney Sauce
Use the cook halloumi, add the mango chutney, chilli flaskes, water and apple vinegar and stir well, cook for 10 mins and bring to the boil over a medium heat until it reduces to a sticky sauce.
Top the toastec bun with rocket/arugula, red onions, halloumi and a generous dollop of mango chutney sauce and corriander leaves. Serve with the remaininng burger bun.