Are you struggling to find a sanitary product that both suits you and your need? Can't get on with period pants or reusable applicator tampons? Then reusable sanitary pads might just be what you've been looking for. Over the years, reusable sanitary towels have been revoluting the world of eco-friendly period products since they first went mainstream – providing a sustainable and cost-effective alternative to single-use counterparts, that majority of us have been relying on for so long.
Are they needed? Well, these reusable alternatives don't just work out to be cheaper compared to single-use products, but DAME suggests that reusable pads can save over 2,000 plastic disposables. The average person with periods use over 11,000 disposable single-use menstrual products in their reproductive lifetime – it's called period pollution – and investing in reusable sanitary pads is a good way to help.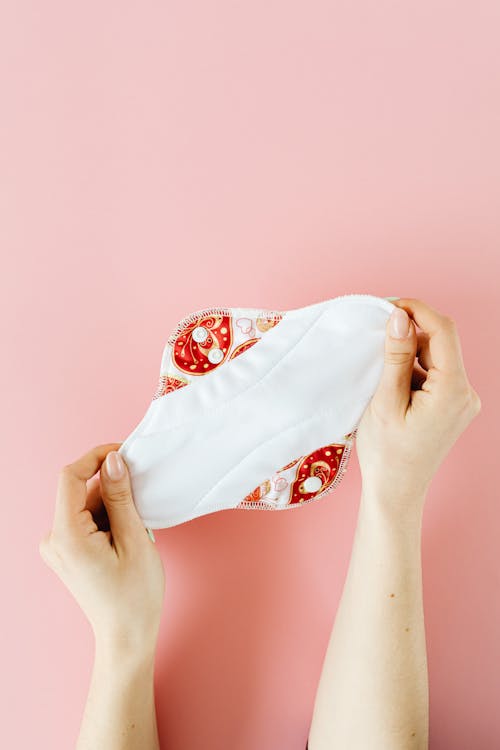 What Materials Are Reusable Sanitary Pad Made From?
The pads are generally made from either bamboo or cotton. The cotton reusable pads is a naturally breathable fabric and should be a good choice for those with a heavy flow (slightly thicker than bamboo), whereas bamboo is more durable, sustainable (it can grow to full size in just three to four months rather than over 30 years), it also has antibacterial qualities that can help to reduce the risk of infection.
How Often Do You Change Reusable Sanitary Pads?
This really does depend on the absorbency of the pad you go for, but for most people will be fine with a single change every eight-ish hours.
How To Clean Reusable Saintary Pads?
It's most probably easier to clean your reusable sanitary pads than you think, as you can clean them in the washing machine. Before you pop them into the washing machine, rinse your pad and then pop them into a wet bag – this is usually provided with most variations – then wash with your normal cycle. Once they're washed, the best to air dry or tumble dry them on low heat.
Are Reusable Saintary Pad Good?
The quick answer is yes. Forget everything you thought you knew, as sanitary towels aren't smelly, gross or unhygienic, instead they tend to have better absorbency compared to single-used counterparts, built-in odour-eliminating layers and quick-drying properties. Plus, if you need to change them throughout the day, most come with a wet bag that you can store your used pad in. Simple and easy!
Do Cloth Menstrual Pad Smell?
The short answer is no. Same as the single-use period pads, the reusable pads are crafted with odour eliminating layers that help to keep you feeling dry and fresh.
---
Still confused about what's the best reusable sanitary pads? Well scroll down for an edit of the best reusable sanitary pads to add to your basket.
These Eco Lily reusable sanitary pads have been designed for medium and heavy flows, with 2 to 3 layers to keep you securely protected – double layer for medium flow and 3 layers for heavy flow – of ultra-absorbent microfiber, an odour-absorbing bamboo charcoal fleece layer and an outer barrier of waterproof PUL fabric.
DAME | REUSABLE PAD SET WITH DRY BAG £34.99
DAME is a softer, thinner, drier and greener reusable pad than any you've tried before. It's made with unique DAMEdry technology, 5 layers that work together for total period protection. The top layer quickly wicks away moisture, while the waterproof lining prevents leaks and the antimicrobial technology prevents odours.
ECO BRAVO | REUSABLE SANITARY PADS (SET OF 6) £23.95
In a world that is constantly changing and where everything is becoming eco-friendly, eco bravo are delighted to offer these reusable sanitary pads, which are super comfy and soft. The best bit, is that you won't have to stock up on single-use pads every month to get though your menstural cycle after buying these reusable sanitary pads.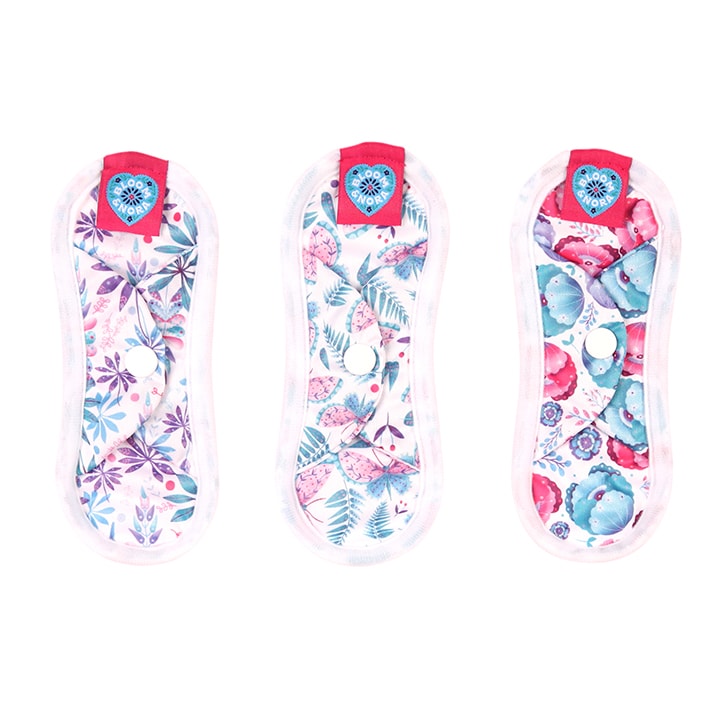 BLOOM and NORA REUSABLE LINER PAD (TRIPLE PACK) £11.40
Bloom & Nora's tiny but tremendous reusable panty liners are the perfect eco-friendly alternative to disposables, saving thousands of liners going to landfill.
Made from soft, sustainable fabrics with a unique stay-dry top to keep you comfortable and leak free all day long. Breathable and absorbent, the waterproof exterior layer and stay dry binding will keep your period in your pad, and the secure popper fastenings will keep your pad in your pants, no plastic sticky wings in sight! To reuse, just give your pad a quick rinse and store in a waterproof bag until laundry time.