Sunscreen is your BFF all year round. Sunscreen is one the most important aspect of any daily skincare routine – come rain or sunshine – but is often the most forgotten. You might be asking, "why would you need to wear sunscreen when it's raining?", well the answer is that just because it's raining, the sun's UV rays are still present and can be harmful to your skin even on cloudy and wintery day's!
There are significant benefits for all ages from applying sunscreen every day and can reduce the risk of developing skin cancer and melanomas, especially during the summer months, as this is when harmful UV rays are at their strongest.
What is the difference between UVB, UVA and UVC?
UVB: This type of rays cause sunburn and are asborbed in the epidermis, but don't reach the dermis which means that it doesn't significantly cause wrinkles.
UVC: This type of rays is almost completely asborbed byt the ozone layer, so doesn't reach the earth's surface – meaning they are generally regarded as safe.
UVA: This type of rays can cause serious damage to skin – penetrating through into deeper skin layers – cause the majority of fine lines wrinkles and increasing the chances of developing skin cancers.
What does SPF mean?
SPF stands for Sun Protection Factor and the number respects how long you can stay out in the sun without burning whilst you're using the product.
The broad-spectrum SPF-15 or higher sunscreens that screen both ultraviolet A & B rays should be applied daily on all skin types – especially on sun-damaged and ageing skin, but if you're going swimming make sure to use water-resistant broad spectrum sunscreen with at least an SPF 30 rating or higher.
What's the protection you get from different SPF's
SPF 2 = blocks out 50%
SPF 15 = blocks out 93%
SPF 30 = Blocks out 97%
SPF 50 = Blocks out 98%
SPF 70 = Blocks out 98.6%
SPF 90 = Blocks out 98.9%
A quick reminder, this doesn't mean that you can apply your sunscreen in the morning and then lay on the beach all day without getting sunburnt. You must ensure that you re-apply your sunscreen every hour and if your skin has started to turn pink, then it's time to get out of the sun – your skin has already started to become burnt.
Commonly misconceptions about sunbathing & sun damage
You can't burn when in water?
This is false, unless you are using a water resistant sunscreens.
Sunglasses can help to prevent sun damage?
This is only true if the sunglasses have UV filters and are constantly worn whilst you are outside in the sun, but always apply sunscreen generously to overexposed areas and must be applied 20 minutes before sun exposure, then re-applied every hour – especially after swimming, towel drying, exercising and perspiration. Also, don't forget your ears and apply SPF lip balm to your lips.
Having dark skin means that your protected?
Melanin is what gives your skin its colour and yes this does protect your skin a little but it still doesn't mean that your skin is completely protected from the sun – even darker skin can get sun damaged, but can be more difficult to tell when burning and diagnose skin damage [i.e identifying pre-cancerous growths], but this is more frequently found in late stage.
You don't burn, which means you don't need sun protection?
False, as it doesn't matter whether your skin burns or not, sun exposure can still lead to skin damage – early ageing, wrinkles, fine lines, sun spot as well as more serious skin diseases. So whether or not your skin burns, you should always apply sunscreen throughout the day.
You can't get burn when it's overcasted?
You might be surprised that even on cloudy, rainy days your skin is can get damaged from the UVA rays that can penetrate through clouds and fog. According to the Skin Cancer Foundation, "up to 80% of the sun's UV ray can pass through clouds". So use the same amount of caution to sun exposure regardless if it is blue skies or an overcast, rainy day.
You are completely protected from sun exposure in the shade?
Okay, yes you are receiving less sun exposure in the shade compared to being in direct sunlight, but UV rays can reflect off of surfaces that sunlight can reflect off more than others like; sand, snow and water. This means that if you're surrounded by these kinds of surfaces then, even if you have coverage overhead this still doesn't mean you are fully protected – you might be absorbing more ultraviolet rays than you think.
Shop Sunscreen products
La Roche – Posay Anthelios UVMune 400 SPF50+ £13.50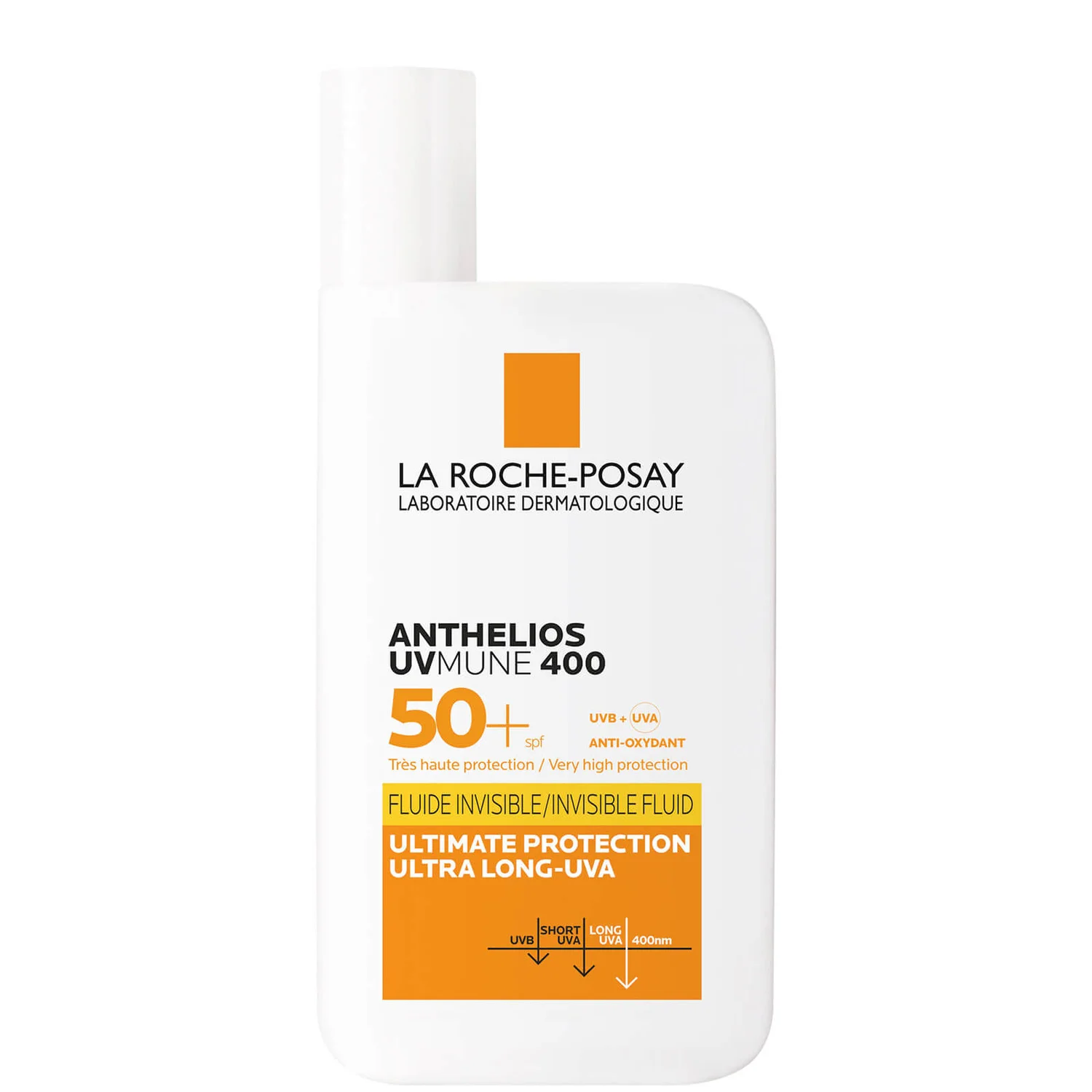 Now enhanced with exclusive filter MEXORYL400, La Roche-Posay's Anthelios UVMune 400 Invisible Fluid SPF50+ helps to protect skin against damage caused by UVA, UVB and ultra-long UVA rays. Water, sweat and sand-resistant, the high-protection sun cream creates a lightweight veil on the skin with an invisible, non-greasy finish. Specifically designed for sensitive skin types, the minimalist, hypoallergenic formula is ideal for daily use, whether worn alone or under makeup. Click here for the link.
Malibu Lotion £3.49
Water resistant. High protection lotion with Vitamin E and Pro-vitamin B5. Suitable for adults, and children over 6 months. Click here for the link.
Vichy Capital Soleil UV-Age Daily SPF50 £15.74
A daily SPF50+ water fluid that protects skin from UV rays and acts on ageing signs. Suncare is now skincare, with very high protection. Click here for the link.
Bondi Sands SPF50+ Strawberry Lip Balm £4.99
Enjoy a sun-soaked day the Bondi Sands way. Hydrate and soothe dry lips with our nourishing Wild Strawberry Lip Balm with SPF 50+. Click here for the link.
P20 Sunfliter £19.99
P20 provides 10 hours protection from one application and is very water resistant even after swimming frequently throughout the day.Its clear, lightweight consistency ensures a silky and even coverage. Active 15 minutes after application, it's quickly absorbed, non sticky and leaves no white marks. New easy to use spray. Thanks to its long-lasting UVA and UVB filters, it helps protect against burning and the premature signs of ageing, and its once a day formula is colour and paraben-free, with no added fragrance or preservatives. Great for all the family, including the children whether you're lazing by the pool on holiday, outdoors playing sports, or just enjoying the garden at home. Perfect under make-up or moisturiser and for men with a thinning scalp. Click here for the link.
Ambre Solarie Anti-Dark Spots UV Protection SPF50+ £12
Garnier Ambre Solaire Anti-Dark Spots & Anti-Pollution Super UV Protection Fluid is enriched with hyaluronic acid and vitamin E. The ultra-light formula is absorbed instantly and offers daily hydration without leaving a greasy finish. Very high SPF protection to help prevent sun induced dark spots and protect against pollution induced oxidative stress. Click here for the link.