Hanging egg chairs can be seen everywhere atm [particular thanks to the likes of Stacey Soloman and Mrs. Hinch], and now that we have finally be graced with the sun again, we can start filling up our social calendars with plans [can we really say that we are keen lightly, is an understatement]. So after two years of being lockdown and doing at-home renovations, we are making the most of our gardens this summer and spending quality time with family and friends, while soaking up the rays – please remember to regularly apply SPF and drink plenty.
And what's a better way to make your outdoor space feel more desirable than ever, with modern sun loungers, cushions or a general exterior refresh. The very popular hanging egg chair' was first popularised during the 1960s, and then in recent years, they have been selling out everywhere just as fast as they come back in stock. And 2022 is no expectation, as they're back and better than ever! Even though the egg chair was designed for outdoor use, they have also been widely used as indoor additional seating in places like; bedrooms, living rooms and offices – so if it rains [cos let's be honest, here in the UK we can guarantee on that every summer] we can bring it inside.
How do you hang the egg chairs?
Some of you might be releved to know that the lastest hanging chairs come with a stand, so no drilling in celling or wall is required – plus once assembled, you can simply sit back and chill. These style of chairs are fuss-free and can give your garden a makeover instantly! But if it does need to be attached to a structure, then you will either need to brush up on your DIY skills or get someone else who can do it. Also, make sure to pick a space where you can comfortably swing without bashing into everything eveything 2 seconds, then it needs to be installed into a soild celling joint to ensure it won't damage you home and stay hanging.
Shop these egg chairs:
I need of some outdoor inspo? We'll it's your lucky day, scroll down to see 15 top picks of the best hanging egge chairs….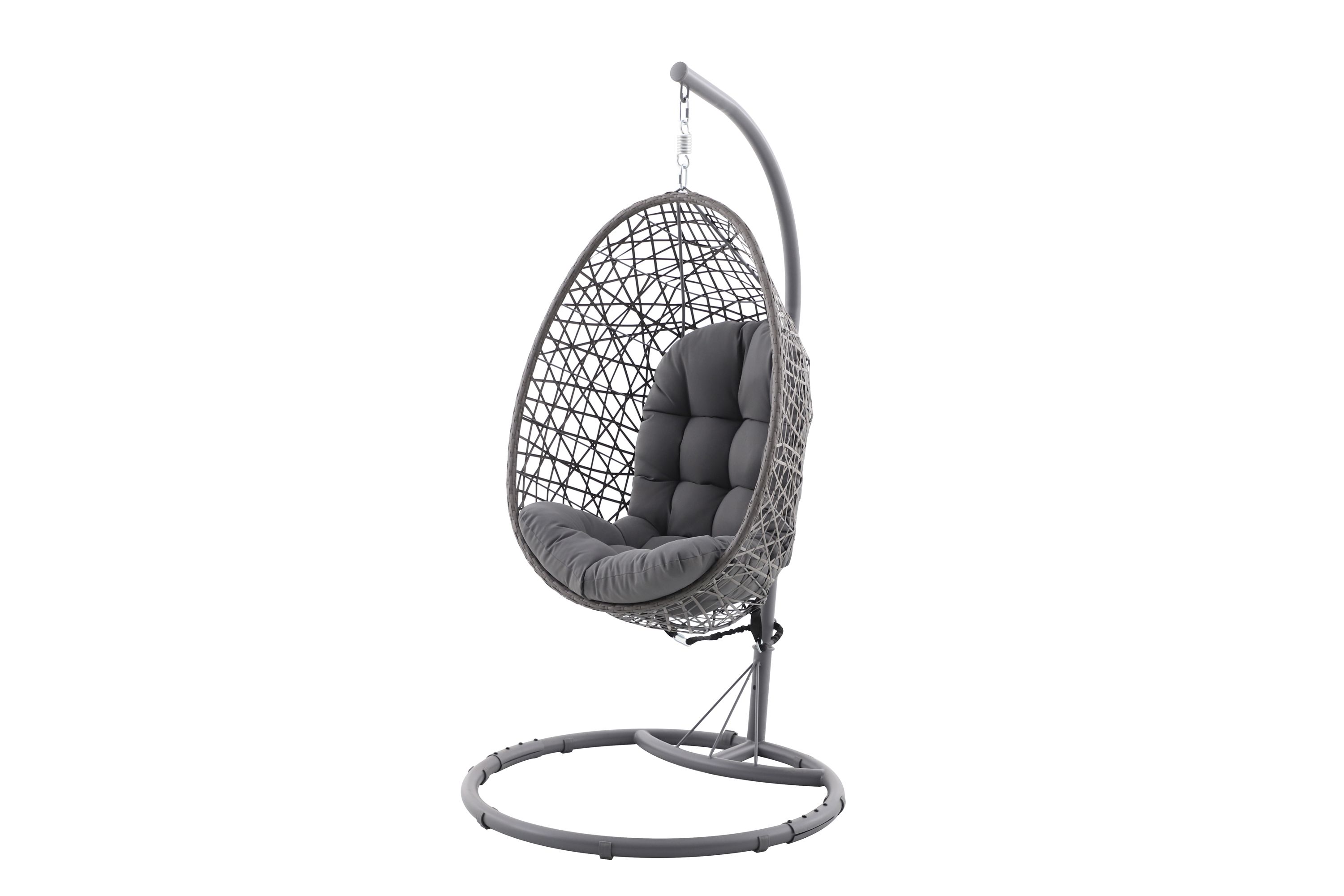 Nikouria Steel Grey Metal Hanging Egg Chair £180
This Nikouria egg chair offers minimalistic style, with added elegance. It's weather resistant framework, weaved construction and level of comfort makes this the perfect piece to add to your garden for a spot to relax and enjoy the sunshine.
Singapore Hanging Egg Chair £229
Add a fun and relaxing touch to your garden, with this beautiful Singapore Hanging Egg Chair. With a natural and timeless design, this egg chair would compliment any outdoor space/garden. Made from metal, this chair is durable and sturdy.
Lyon Egg Chair £339.24
Our Lyon Egg Chair is the epitome of luxury and comfort. The deep, comfortable cushions allow you to relax in style in the garden while enjoying a refreshing drink or good book. With a pillow headrest for the ultimate relaxation, the chair is the perfect spot to unwind in the comfort of your garden sanctuary. This impressive garden swing chair features an enduring metal frame that will stand the test of time, remaining sturdy, as well as weatherproof cushions with covers that can easily be removed to allow for cleaning. This egg chair will make a stunning addition to the garden or conservatory, looking just as good indoors or out.
Brampton Double Cocoon Chair with Grey Cushion and Brown Rattan £549.90
The Brampton Double Chair is perfect for two people to relax on a hot summers day. This swing is free standing and is perfect for your garden, Patio, Conservatory or any outdoor area. Thick cushions are included with this double chair to ensure maximum comfort and relaxation. The resin rattan material makes this chair is suitable for any weather conditions and requires no treatment or maintenance. Made from high quality rattan and powder coated steel to make a strong unique product which can be outside all year round. By Mixing natural and darker tones colours to make a great design with offset corresponding cushions to stand out from afar. With smooth surfaces making a sharp clean lined design which will stand out in any outdoor area.With a flat weave design which is a sleeker more modern approach to this classic styled furniture set.
Bramblecrest Chedworth Open Weave Double Cocoon with Season Proof Cushions £849
Easily spend hours of tranquil relaxing with another, or lavishly splay out alone in this wonderful hanging swing chair.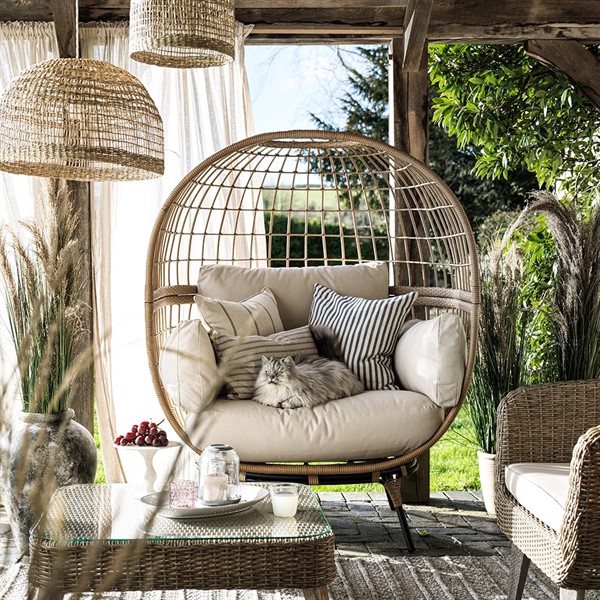 Driffield Cocoon Love Seat £249
Made from polycane on a sturdy steel frame and with removable and washable cushions, our Driffield cocoon love seat offers the perfect secluded spot to relax on summer evenings or a comfortable spot to enjoy a late morning coffee.
Siena Hanging Egg Chair £225
Relax in your back garden with this wonderful hanging egg chair. The comfortable chair includes a luxury cushion. Provides a smooth rocking action. Suspended basket is secured safely. The perfect place to relax.
New York Hanging Egg Chair £150
New York Hanging Egg Chair. Relax in your garden with this wonderful hanging New York Hanging Egg Chair. Comfortable, modern and stylish.
Siena Hanging Snuggle Egg Chair £275
Siena Hanging Snuggle Egg Chair. Relax in your garden with this wonderful hanging egg chair.
Selene Hanging Chair £349.99
Sumptuously soft and inviting, cacoon yourself in this gorgeous Selene Hanging Chair for ultimate relaxation. Complete with luxurious cushions to mould yourself into, you can gently sway to and fro in this hanging egg chair for a truly tranquil experience. Sturdy and reliable, this stunning egg chair will create a spectacular focal point in your garden.